Leather Boot Care – Cleaning
Step 1
Remove any laces/undo buckles. Hose down your boots to loosen dirt and brush off any remaining dirt
Step 2
Shake ECO Boot Cleaner well and spray all over the boots and on brush. Vigorously scrub the surface with a polishing brush to create and rich foam and remove dirt. Ensure to pay particular attention to the eyelets, tongue/gusset and welt stitching.
Step 3
Rinse off remaining Eco Boot Cleaner and dirt from boots and brushes and allow to fully dry at room temperature overnight.
Step 4 (optional)
If there are any scuffs in the leather you wish to cover up, take the applicator brush and work Mogano Renovating Cream into the leather in a circular motion until the scuff becomes the same colour as the leather. Once complete, leave for 3-5 hours to allow the Mogano Renovating Cream to sink in.
Step 5
Use the polishing brush to work in a generous amount of Natural Boot Wax into the leather all over the boot, paying particular attention to high stress areas, tongue and the tongue gusset. Once covered, work the remaining wax left sitting on the leather in with a Buffing Cloth to bring your boots to a shine.
Step 6 
Leave your boots for 6-8 hours to allow the wax to sink into the leather to leave a hydrated and supple leather.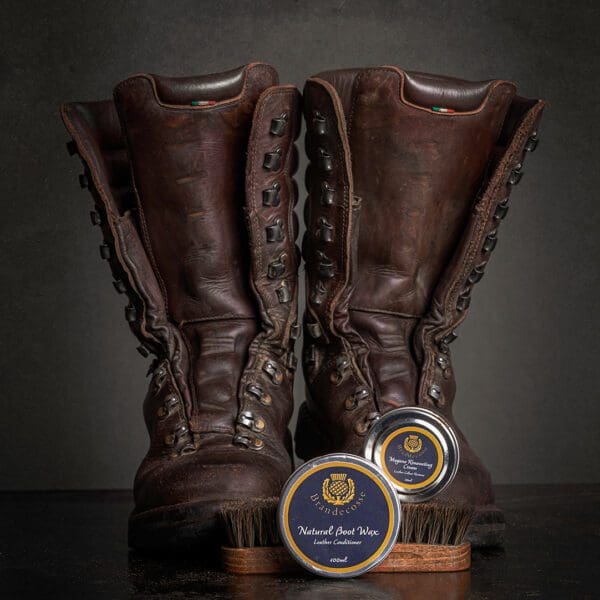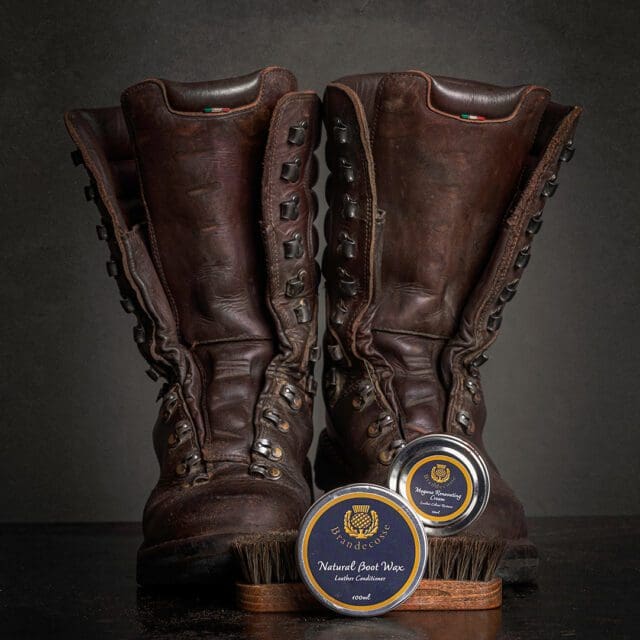 Suede
Step 1
Remove laces and hose down/wet your boots to loosen dirt. Then brush off all loose dirt on the surface of the boot with a soft brush brush.
Step 2
Shake ECO Boot Cleaner before use. Spray generously all over the boots and on brush.
Step 3
Vigorously scrub the surface with a Combi Brush creating a rich foam and removing dirt. Pay particular attention to eyelets, tongue and tongue gusset.
Step 4
Rinse your boots and repeat steps 2 to 5 if necessary.
Step 5
Once clean, spray Proof & Protect from a distance of 15cm, ensuring all the suede or nubuck has been covered and work in with a polishing brush. Repeat 2-3 times at 10 minute intervals for best results.
Step 6
Allow your boots to dry at room temperature for 24 Hours and once dry, brush suede/nubuck with Combi Brush to bring up nap.