What makes the best boot socks?
For any lover of the outdoors, looking after your feet is of the upmost importance.
It's easy to underestimate the importance of good boot socks, but pairing your boots with the right socks can make all the difference. Proper hiking socks not only provide comfort but also play a crucial role in preventing blisters, reducing moisture, and maintaining foot health on the trail. In this comprehensive guide, we will delve into the world of hiking socks, exploring the best materials, blends, and how to choose the perfect pair for the conditions and style of your hiking boots.

"A life outdoors demands the right gear, and something often overlooked but one of the most essential pieces of kit is a quality boot sock. Not only for comfort and insulation, but crucial for preventing blisters and breaking in."
Josh Trueman, Marketing Manager


What do good boot socks offer?
Comfort & Support
Wearing specifically designed boot socks will greatly improve overall comfort, providing added support and cushioning to high impact areas like the heel and ball of your boot. Wearing proper boot socks also reduces the volume and perfects the fit inside your boots, filling any dead space and stopping your foot from slipping inside your boot.
Preventing blisters
Especially important while breaking in your boots as the leather softens and begins to learn your feet. As mentioned previously, quality boot socks will reduce the volume of your boots and stop your foot from moving and rubbing inside your boot, the most common cause of blisters.

If you are particularly prone to blisters, consider using a liner sock under your boot socks. This liner sock will reduce the chance of blisters as the liner socks takes the friction instead of your skin.
Keeping your feet warm & dry
Wool and synthetic materials used in boot socks are naturally/designed to be moisture wicking. The material will actively draw moisture away from the foot to the outside of the sock. When paired with a technical lining like our Sympatex H20ut, which also absorbs moisture from inside the boot to then emit it to the outside, you will be able to keep on the move in comfort without sweaty feet.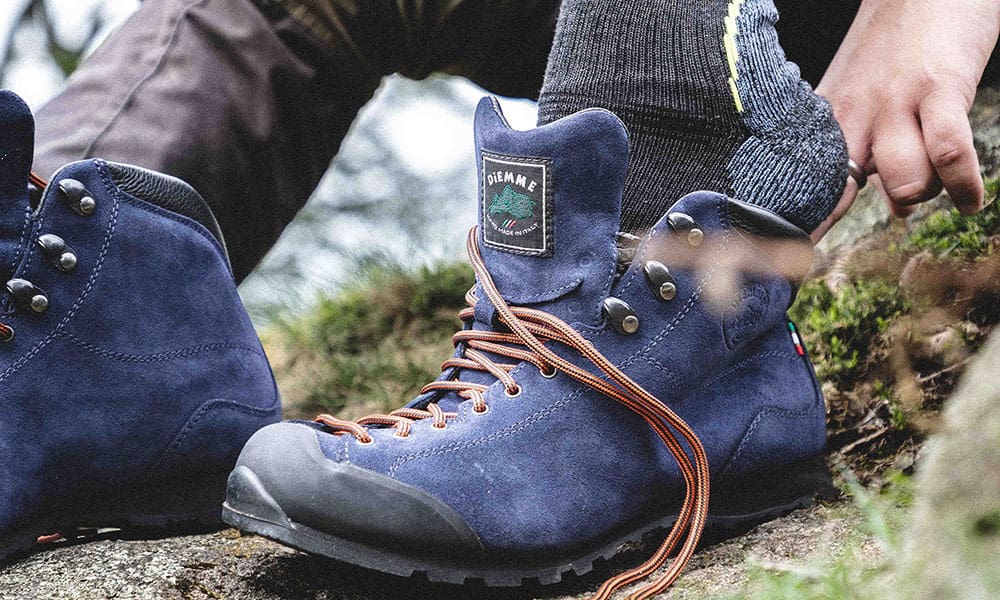 What to look for in boot socks?
A high Merino wool blend
Additional padding for high impact areas such as the heel and ball of your foot.
­A seamless toe box further prevents blisters and being uncomfortable
Arch brace support. A reinforced weave over the top and below the arch of your foot. Offers support and helps keep the sock in place. Particularly useful for those with a high arch.
Tightness of the knit. The tighter the knit the better the quality.
The height of the sock matches the boot you're wearing.
Materials
Merino Wool. Our favourite and the most popular option for quality boot socks. Naturally moisture wicking and subsequently a powerful temperature regulator. Alongside being very comfortable and soft, wool is naturally antimicrobial. Reducing odour and improving foot health. Merino wool is usually blended with other synthetic materials such as polyester, Nylon or Spandex to improve elasticity and durability. Alongside it's long list of benefits has to be that it's a natural, biodegradable and regenerative material in vast supply.
Polyester. A great insulator, wicks away moistures and dries very quickly.
Nylon. Mostly used in conjunction of another material like wool, as it can help make the sock more durable and improve drying times.
Spandex. like Nylon, can often be found in many quality boot socks as it's elasticity helps improve fit. Silk is often found in liner socks, thanks to its moisture wicking ability and of course smooth finish which reduces friction and prevents blisters.
Silk. Often found in liner socks, thanks to its moisture wicking ability and of course softness which reduces friction and prevents blisters.

Match the sock to the boot and conditions
Selecting the right sock for your hiking boots and the prevailing conditions you face is vital for a comfortable and enjoyable hiking experience. Here are some factors to consider: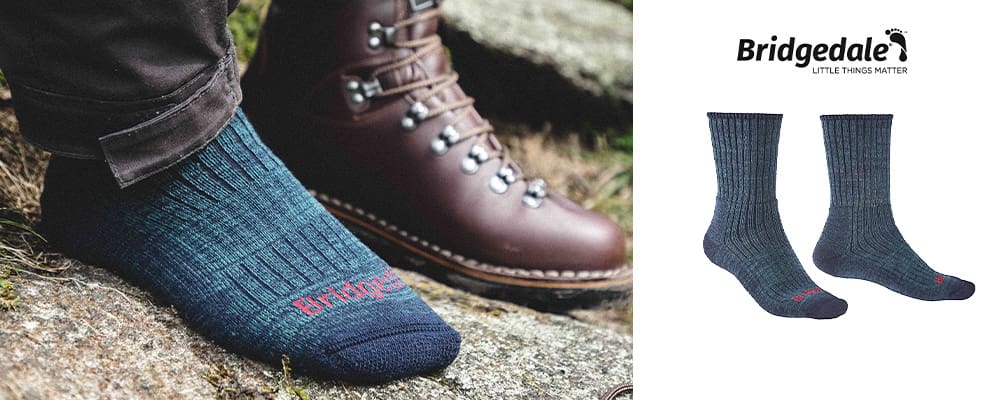 Cushioning: Hiking socks come in various cushioning levels, including light, medium, and heavy. Light cushioning is suitable for lightweight boots and shorter hikes, while heavier cushioning provides extra padding and is ideal for rugged terrain and heavy backpacking.
Height: Hiking socks are available in different heights, ranging from ankle to knee-high. The choice depends on personal preference and the type of hiking boots you wear. Higher socks provide added protection against debris and can prevent boot chafing.
Climate: Consider the weather conditions you'll encounter on your hike. For warm weather, opt for thinner socks with excellent moisture-wicking properties. In colder conditions, choose thicker socks with insulation properties to keep your feet warm.
Boot Style: The style of your hiking boots plays a role in sock selection. Low-cut boots work well with ankle-height socks, while mid-cut and high-cut boots benefit from higher socks that provide additional ankle and calf support.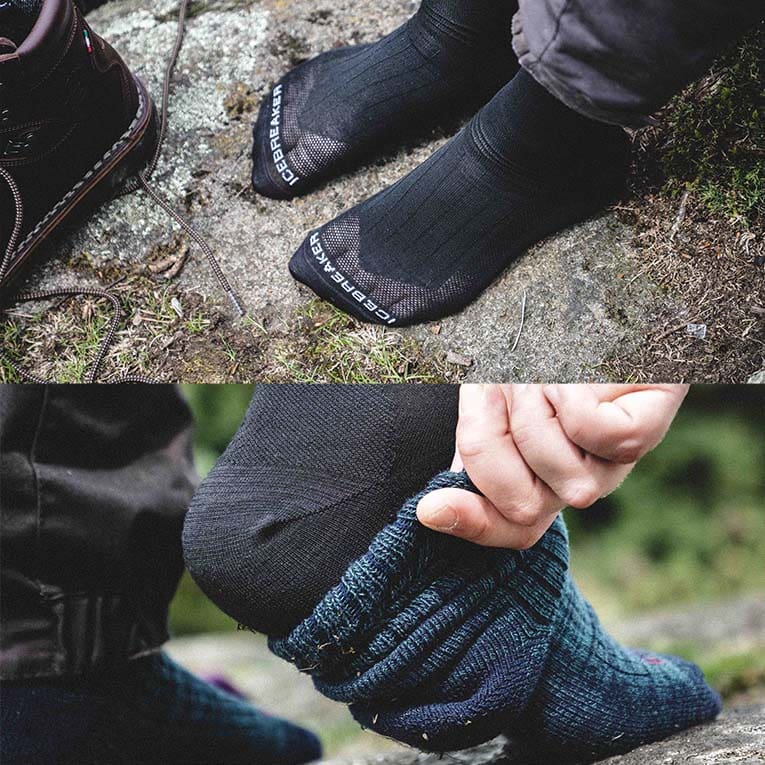 Liner socks
Some people are a lot more prone to blisters than others. After all, no two feet are ever the same shape or size. For those who often find themselves getting blisters, a liner sock is a great option to reduce the friction against your skin.
A liner sock is usually a thinner sock that is worn under your main boot sock and made out of wool, Nylon, Polyester or Silk. The liner socks will allow your boot socks to rub against the liner socks instead of your skin, as this is what can cause blisters.
A great option when breaking in a new pair of boots, as foot movement inside the boot may happen as the leather softens and the fit improves.

Sock in photo – Icebreaker Merino Hike Liner Crew Socks
6Don't do it!
If it's cotton, just don't. Cotton socks absorb moisture instead of wicking away. Causing sweaty and hot feet, leading to conditions like athlete's foot alongside being very uncomfortable.
No place for tube socks here. A boot sock should be designed in the shape of your foot to reduce any folds or creases which can cause blisters.
A collection to cover it all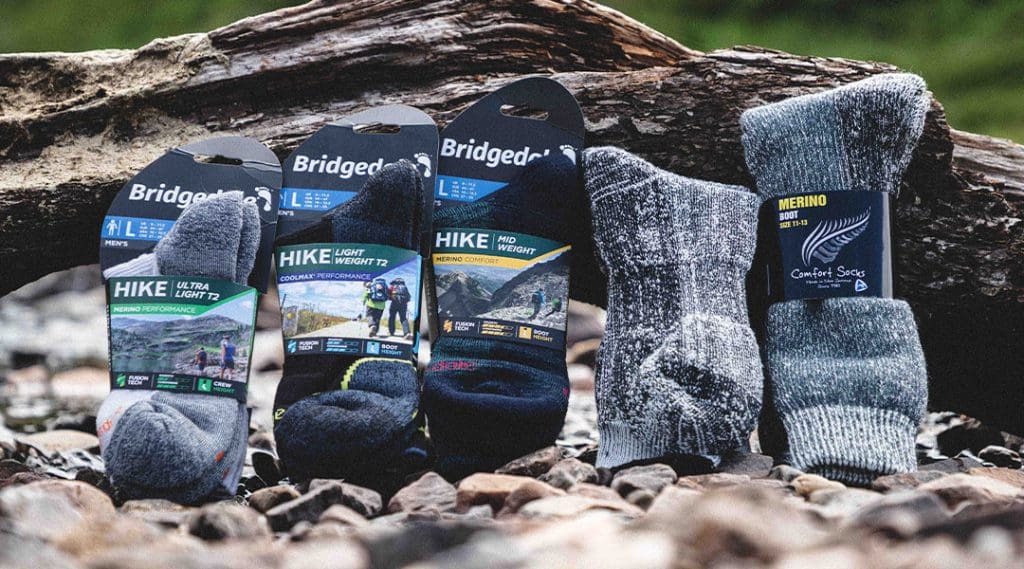 All in all, having a collection of quality boot socks to cover all bases is the best way to ensure a comfortable ride no matter the conditions. Unfortunately, there isn't a sock which covers it all, however over years and many miles of testing. We think we've found the perfect sock combination which will offer comfort, protection and insulation when it matters most.

1. Bridgedale Hike Ultra Light T2
Perfect for the height of summer when your out in your Ultra-Light Capriolos. Low insulation keeping you cool on the hottest of days, while offering crucial cushioning on high impact areas. A good choice for those of us who get hot feet.
2. Bridgedale Hike Lightweight T2
A three season all rounder. A very versatile sock with low insulation, medium cushioning and suited to a variety of boots like our Stambecco or Fagiano during the warmer months of the year.
The perfect partner for when the temperatures start to tumble. A sock suited for a more substantial boot like our Fagiano and Brontolare 9″ on long days in the hills, with loads of cushioning offering all day comfort and high insulation for those colder days.
A bomb proof classic. There's good reason classically styled socks like the Fortis Tough Sock are still a favourite for many. Their high volume, insulation and cushioning provide a comfortable and cosy ride. Our go to for breaking in, filling in looser areas while the leather comes to mould to the shape of your foot.
5. Comfort Sock NZ Merino Boot
A must for any 11″ lace up or welly boot wearer. Offering insulation and padding for all day comfort in the toughest of conditions, and a sock which should fill the sock drawer of any fieldsports enthusiast. Almost reaching the knees with high quality Merino wool, and the perfect choice for high hunting boots like our Cervo Rosso.